Why vaping statistics are so high involving high school students.
Safety is our schools biggest priority, along with cleanliness and responsibilities, its hard work because as many times as your sent to the dean for getting caught on campus, I promise they know your gonna most likely do it again, on campus or not, there are laws broken and actions taken in numerous ways starting with the slow but steady health risk by vape pens.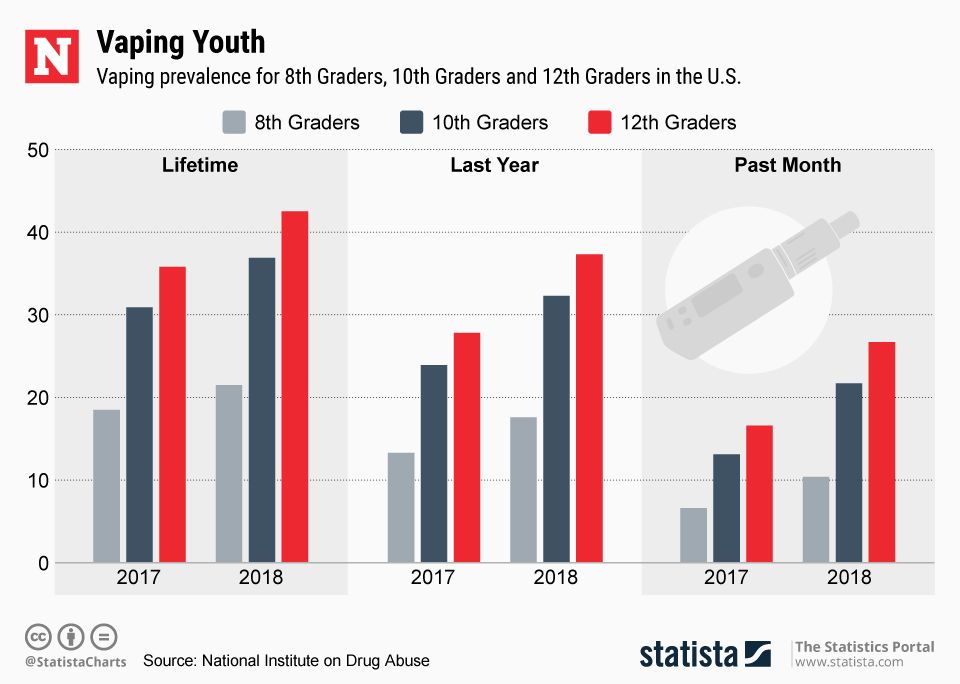 In a 2018 CDC and FDA study they showed that "more than 3.6 million U.S. youth, including 1 in 5 high school students and 1 in 20 middle school students, were past-month e-cigarette users." Unfortunately there's more this year furethermore nothing has not gotten any better. A lung injury epidemic started around the end of the summer, the fallouts were intense. The FDA and a few organizations were and still are working with health departments and states to cover the investigation. About nine or eleven have died and around 530 people are suffering a tremendous amount of lung illnesses mostly young adults.
Now about that lung epidemic, around September of this year people were calling about how they felt having vaping related problems such as: nausea, weight loss, diarrhea, shortness of breath, vomiting, fatigue, chest pain and uneasy breathing. And then recently we have found out about twelve deaths starting in California and Georgia then accumulated in Florida, Illinois, Indiana, Kansas, Minnesota, and Oregon. Some say its the cause of THC containing products. Even the Juul CEO had resigned amid the vaping epidemic and has also claimed they are removing ads or most displays towards Young adults under 18. The state of Colorado has had about 1-9 Cases accounted for says the CDC. They recorded these stats below;
" substances used in e-cigarettes or vaping products in the 30 days prior to symptom onset among 514 patients.
About 77% reported using THC-containing products; 36% reported exclusive use of THC-containing products.
About 57% reported using nicotine-containing products; 16% reported exclusive use of nicotine-containing products.
At Liberty we have a support club called Students Working With Tobacco also know as S.W.A.T. Their goal is to educate peers and school community on the harms of tobacco and promote and promote tobacco-free policy. They are a judge free zone, not only talk about vaping but smoking too. You may or not have seen posters around the school conducting surveys based on your personal experience associated with vaping.
Such questions were;
Grade Level
Have you ever smoked or vaped?
If answered yes, when was the last time you smoked or vaped?
Would you be interested in quitting?
Do you feel vaping or smoking is and issue at liberty?
Do you feel it is dangerous?
As a notion these are absolutely ANONYMOUS and is gather to collect data. Follow them on Instagram : Libertyagainstvaping. Wanna join talk to Mrs. Gaughn in the counseling office.
This is not a scare tactic, nor pressuring, just a few incites and persuading for those to think before decisions are made that could damage yourself or anyone else.
Citations: